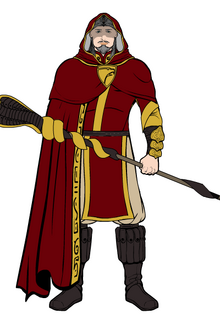 Medivh was the last Guardian of Tirisfal, an ancient line of protectors bestowed with great powers to do battle with the agents of the Burning Legion. However, he was corrupted even before birth and possessed by the spirit of the demonlord Sargeras, who used Medivh in his plan to conquer Azeroth. Medivh contacted Gul'dan, and together they opened the Dark Portal, which allowed the Burning Legion to begin its destruction of Azeroth. He was slain shortly after by a party led by one of his friends, Anduin Lothar.
Ad blocker interference detected!
Wikia is a free-to-use site that makes money from advertising. We have a modified experience for viewers using ad blockers

Wikia is not accessible if you've made further modifications. Remove the custom ad blocker rule(s) and the page will load as expected.